SEE THE SHOW | Tobacco Road Dance Productions: In Concert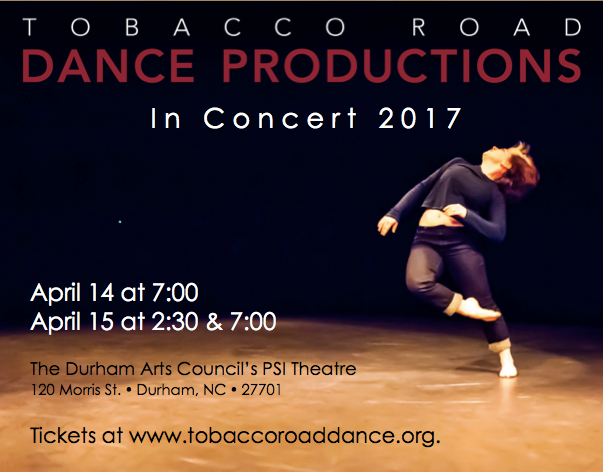 Yeah, that's right. I'm writing about a show that I'm in. (OK, technically I was in the
UNCC Faculty Show
; this time I'm presenting – and previewing – my own work.) But it was bound to happen. Even when one ventures out of the bustling metropolis of Charlotte (kidding) to the smaller, artsier city of Durham (not kidding), the pool of dancers and dance stuff is still relatively small. Also, this show is really freaking great, so… yeah.
Last summer, in Frankfurt, Germany wrapping up my second summer in the MFA Dance Program at
Hollins University
, I think I was a little homesick and happened to check the
NC Dancers
Facebook page. I noticed a call for submissions by
Tobacco Road Dance Productions
 and the deadline was in a day or two. Having only planted the seeds of my final thesis work over the preceding weeks, I quickly composed a submission based on a dance I had not even started and just an inkling of a vision (which ended up changing all together in the following weeks). Shortly after returning home, I was surprised and elated to receive an email of acceptance to the showcase, especially since I had very little idea as to what I was doing.
But that's how TRDP founders and co-directors Stephanie Blackmon Woodbeck and William Commander like it. They don't want polished pieces that have been tried, tested, and performed out the wazoo; TRDP looks for raw material, or works to rework. Six selected choreographers participate in four choreography workshops from September to March, during which three panelists (this year Jessi Knight, Amy Love Beasley, and Anjanée N. Bell) "offer critical feedback on the work so far, and the entire TRDP community [discusses the] process, results, and the experience of each dance." Woodbeck and Commander have crafted an inspiring and ingenious way of curating a diverse, yet cohesive professional dance concert. The integrated feedback process ensures a high-caliber show without making it homogenous. The TRDP format "translate(s) into more thoughtful, developed dance makers within our growing Triangle dance community." I'm honored to be sort of a satellite cog in the Triangle dance network, being the only choreographer not living in the Raleigh / Durham / Greensboro area.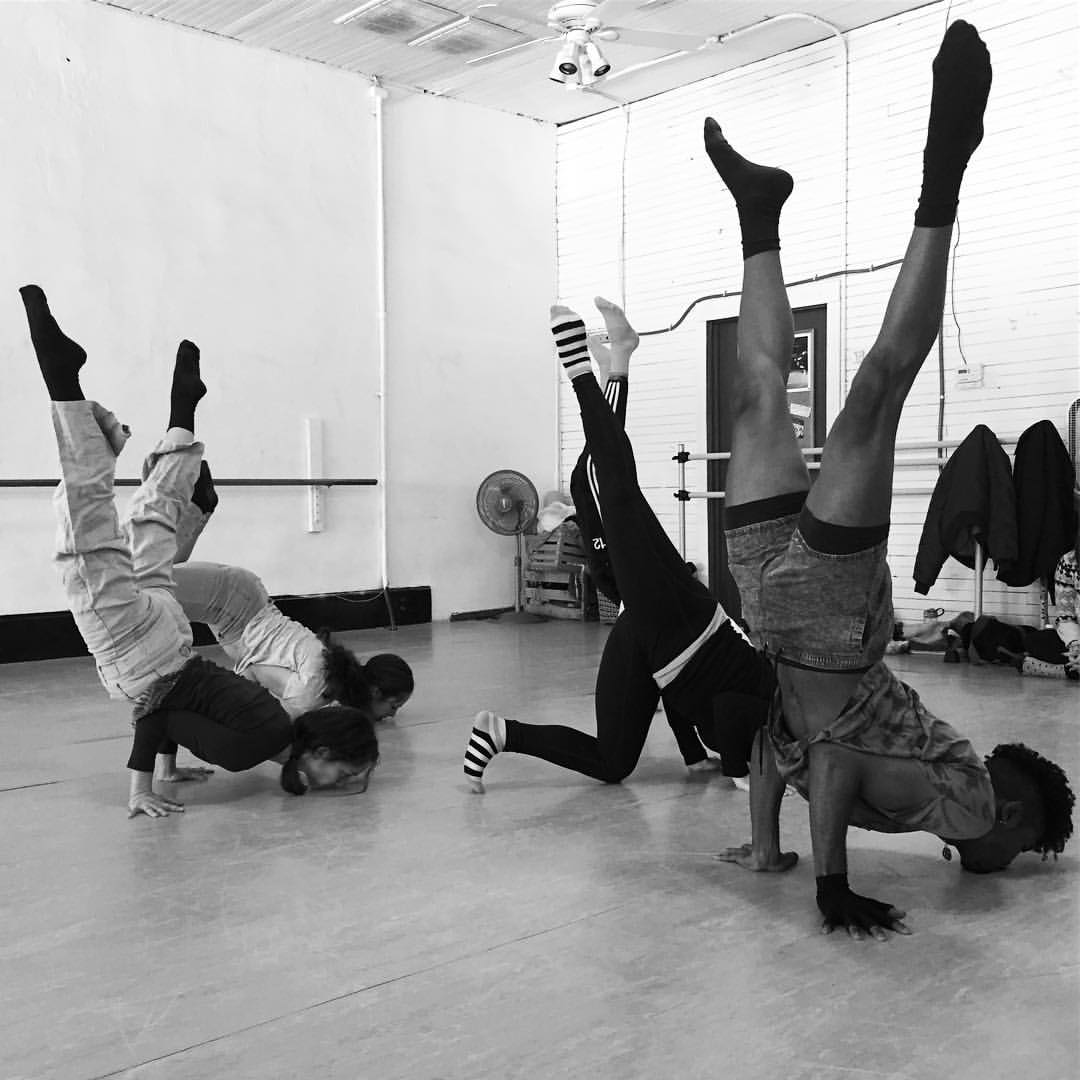 Another great thing TRDP does is hold auditions for choreographers who need bodies, and this year's open call rendered dancers for two group pieces on the bill. Marsha Thomas' Over and Next is "a study of life as we, the dancers, see it, feel it, and live it in the moment." Thomas and I danced together in Queen City Jazz Company years ago, and I was delighted to once again see the fluid, risky, and whimsical physicality of her work. Set to an earthy selection by Michael Wall, this pattern-oriented piece is the largest in the show with nine dancers. Thomas says that Over and Next "waits, holding steadfast to its creation and then quickly flows infinitely towards its own destruction. It pulses by enfolding and unfolding through the entire body and through the dancers' physical relationship individually and as a whole being." Whoa.
Jade Poteat's quintet, I am deliberate, "explores the moment when you can no longer hide your identity, your politics, or yourself." Created in response to recent personal and political events, Poteat's work is "about knowing when your identity makes you more or less privileged than those around you, about making safe spaces for folks who are targeted with personal and systematic hate and violence because of their identities." The deliberate dancers exude sass, strength, and support to music by Jude Casseday and their own recorded voices offering a poem by Mary Oliver. According to Poteat, "It's about banding together when our lives and livelihoods, rights and freedoms are threatened." Preach.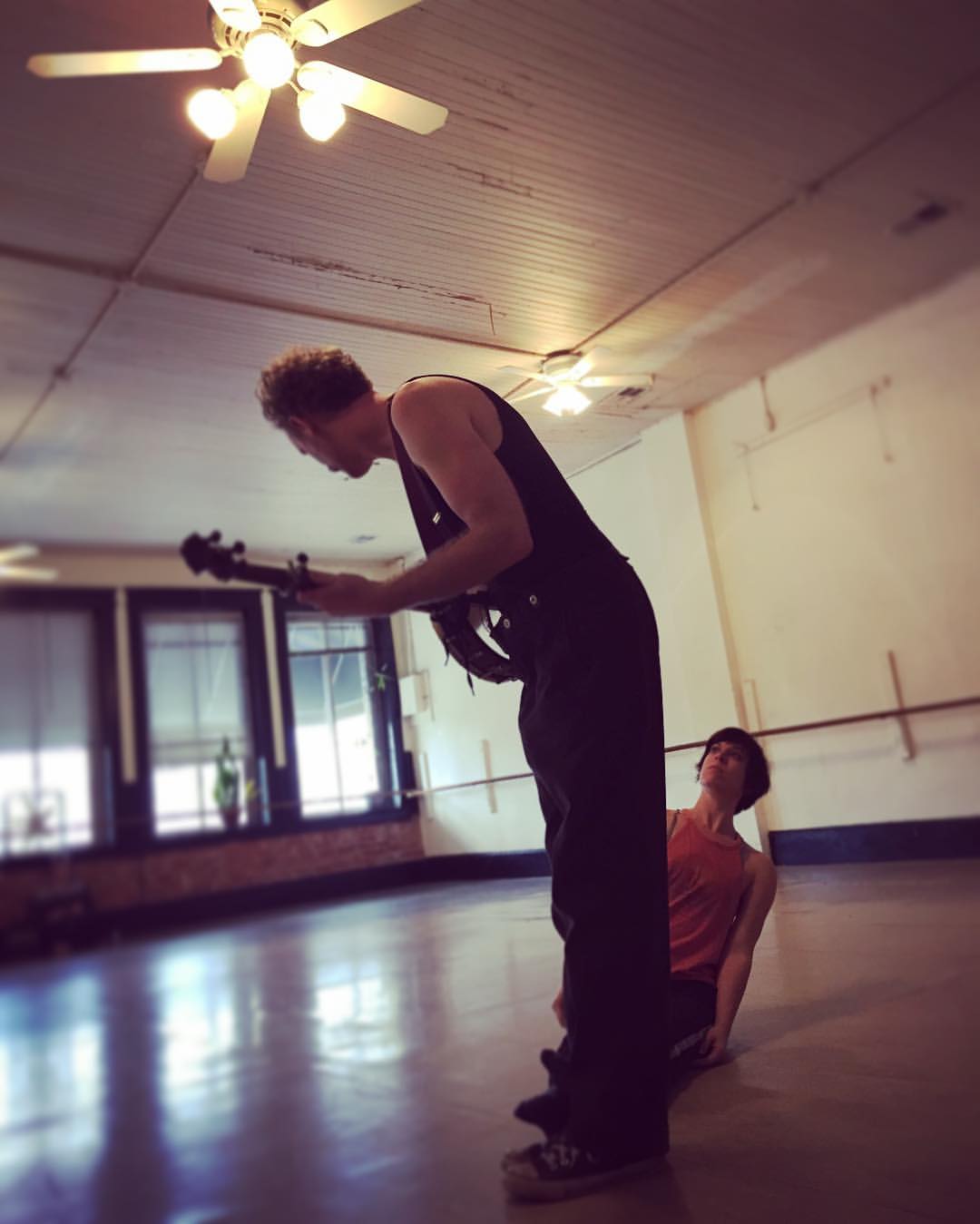 Hypnagogiacs, a duet between The Bipeds artistic director Stacy Wolfson and Banjo player Curtis Eller, is not the typical girl-dances-man-plays-music collaboration. Wolfson sings and Eller moves, both with the confidence and craft of seasoned double threats. The haunting duet "deals with the mysterious threshold between sleeping and waking," and their curious cat-and-mouse relationship creates a "space where phenomena such as lucid dreaming, sleep paralysis and hallucinations are apt to transpire." Watching it, I don't want to wake up.
The third annual TRDP concert features two solos, both utilizing text in very different ways. Dana Livermore's The Ogre's Wife: for love of features music by Edith Piaf and Judy Garland, but don't let the cheery connotation fool you. Livermore is wonderfully gross and purposefully unsettling, conjuring an alter-ego who spits at the notion of demure femininity and unconditional happiness. Anna Barker, a mover who I could watch for days, has made a dance about making a dance. Her recorded voice all too familiarly narrates the stream of uncertainties, revelations, and distractions that any choreographer experiences. Both solos are deliciously funny-not-funny.
Oh, and my piece, Moving In, is an exploration of the potentially interconnectedness of dance and meditation. For months I've been researching the intriguing and multifaceted relationship of movement & stillness, experience & performance, and sensation & spectacle. Hopefully this quartet version of my thesis work (the final piece will have six dancers) yields an interesting and accurate representation of what has been consuming my life for the better part of a year. Obviously I'm not very good at describing it, so I'll just leave the cliché but fitting words of Rumi here: "In order to understand the dance one must be still. And in order to truly understand stillness one must dance."
Tobacco Road Dance Productions: In Concert 2017 is a really freaking great show, and the being a part of the culminating process makes it all the more gratifying. Triangle friends, I hope to see you there (and for drinks!) and Charlotte friends, Durham is just over two hours away. Get out there, check out some amazing dance by some amazing people you may not know, and walk the talk of supporting North Carolina grown art.
---
Tobacco Road Dance Productions: In Concert
Friday, April 14th at 7:00pm | Saturday, April 15th at 2:30 pm & 7:00 pm.
$15 General Admission | $13 Students & Seniors
Durham Arts Council's PSI Theatre (120 Morris St. Durham, NC 27701)