ABOUT THE SHOW: On Site/In Sight
On an uncharacteristically cool May morning, I took the short trip to Winston-Salem to take in part of On Site/In Sight, a three-day dance festival presented by Helen Simoneau Danse. The gathering of local, regional, national, and international dance artists premiered last year and includes movement classes, pop-up, rooftop, and courtyard performances, as well as site-specific works throughout downtown Winston-Salem. On Site/In Sight is collaboratively organized by Blakeney Bullock, Julianne Harper, Jessie Laurita-Spanglet, Caitlyn Swett, and Helen Simoneau, emphasizing a hands-on, low-tech model of presenting dance in new and unusual sites. After catching some videos and stories from HSDanse's inaugural festival, I was super stoked about the opportunity to attend, play, observe, and write about a snapshot of this innovative and immersive experience.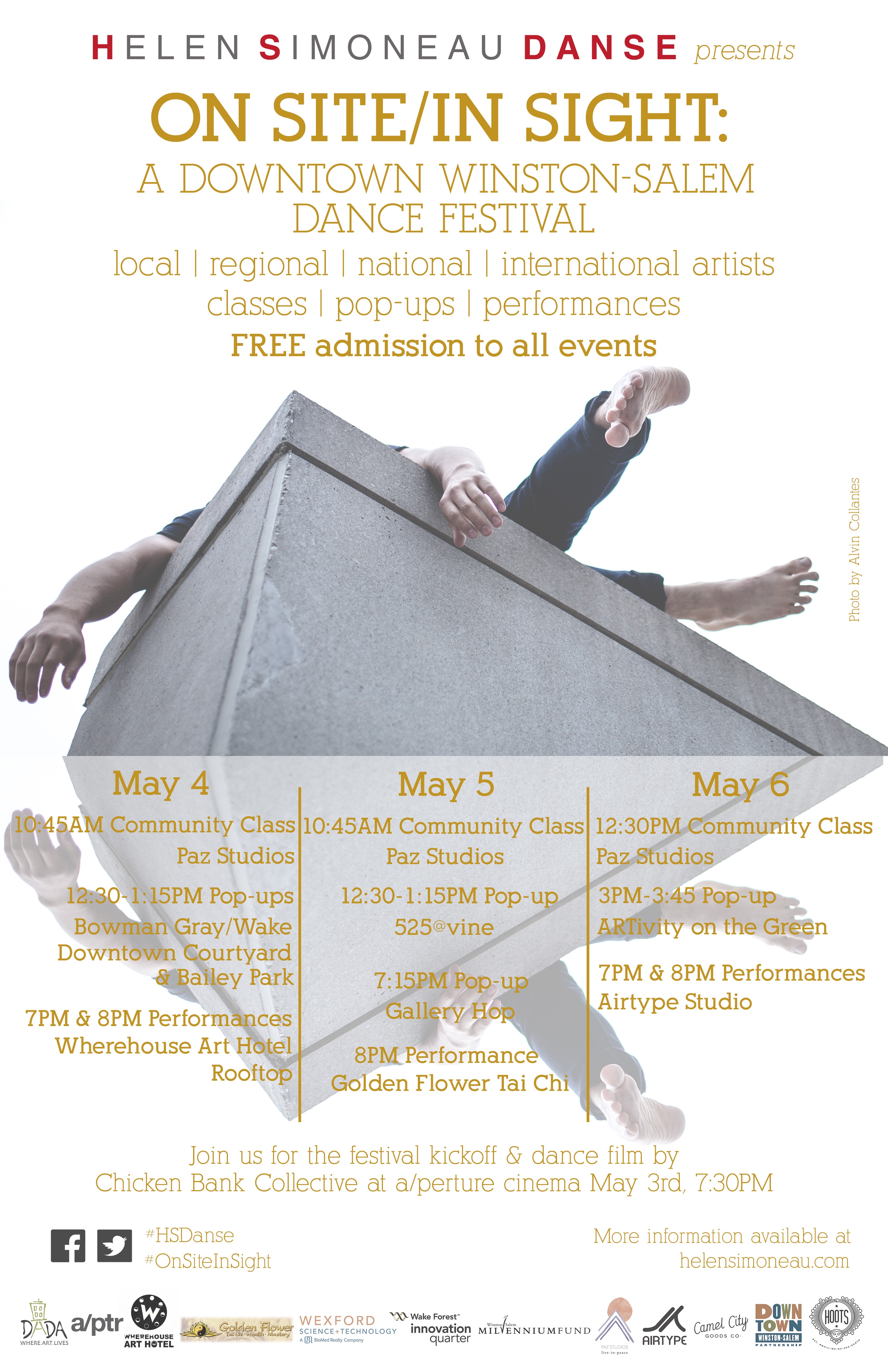 I attended a movement class led by David Norsworthy, a Toronto-based dance artist, at Paz Studios. According to Norsworthy's website, he is "interested in asking relevant questions. I work to cultivate situations that allow myself, students, collaborators and audience members to contemplate possibilities." Given my recent research into the inquisitive work of Deborah Hay, I was immediately intrigued, despite (or maybe because of) the fact that he informed the class right away that he had only a slightly better idea of what was about to happen than we did. Basically, he had no plan. I was in.
Norsworthy's class was wonderfully playful but not juvenile. We moved, explored, and sweat communally, without feeling hippie-dippie. The curious, mature, and warm energy in the room was palpable, even for me, the only participant not directly involved in the festival. He offered gems of inspiration without being too inspirational, and I hurried after class to jot down some notes before they escaped my brain: Do something you thought you wouldn't do today. / What is the difference between IMPULSE and IDEA? / Get rid of composition and cleverness (and still be an artist)! Without divulging every detail, Norsworthy's class was a fitting introduction to the On Site/In Sight experience for me (especially given my current tweaky neck thing) – cerebral, unassuming, and a lot of fun.
After class, the artists made their way on foot to 525@vine, a big and beautiful mixed-use office building located across the street from the charming Bailey Park. Admittedly, I overheard some of the discussion in preparation for the afternoon's pop-up performance (the second of four in the festival) so had perhaps a slightly spoiled perspective of what was about to happen. Even so, I was strangely curious upon having a seat in the lobby of 525@vine and looking up into airy, five-story structure where Chanelle and Widow, music artists of the interdisciplinary collaboration Paideia, began making rumbling noises from the floor above. (I couldn't see all their instruments, but they appeared to have a mix of electronic apparatus and meditative singing bowls.) I was in.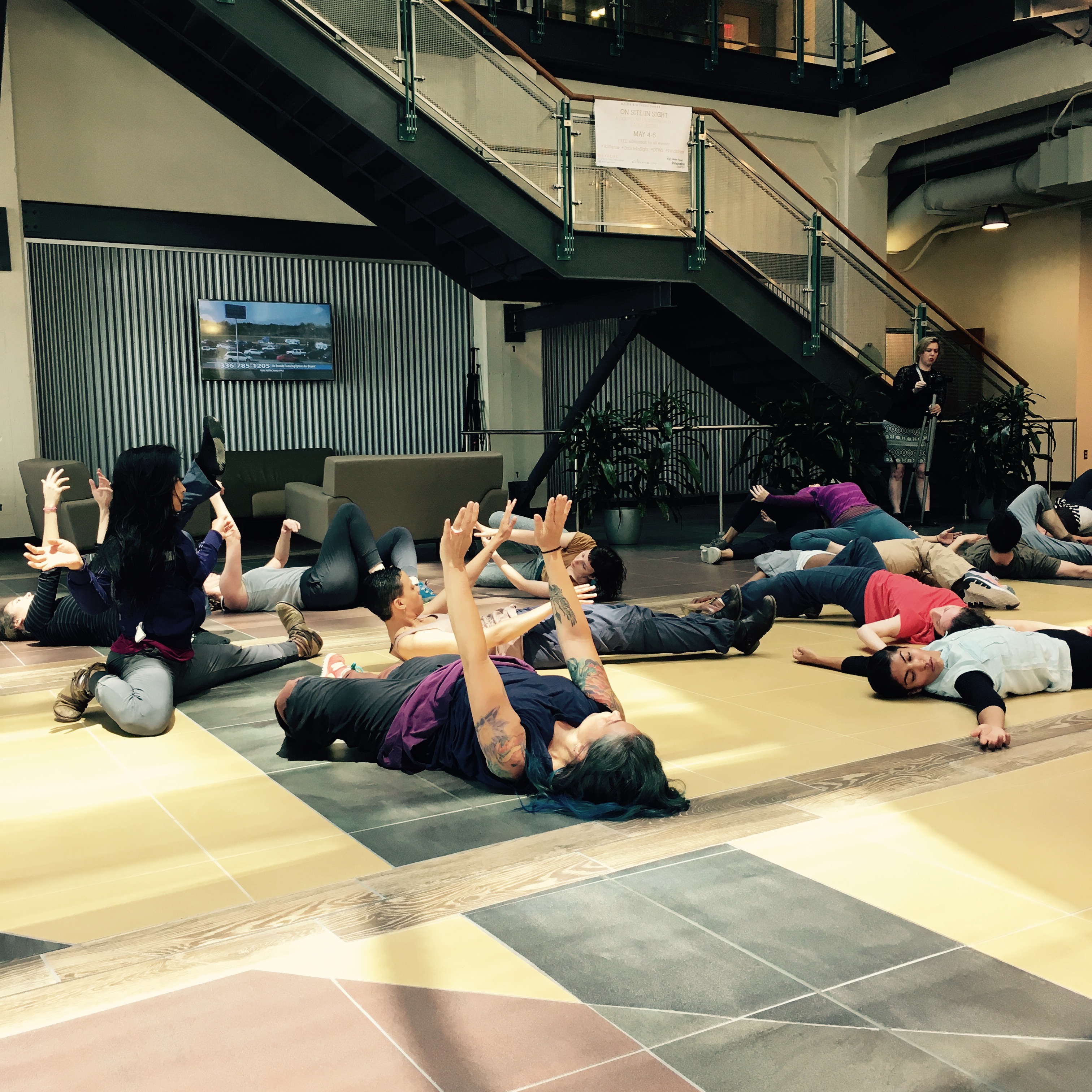 The dancers emerged, not as if they couldn't be seen before, but as dancers, hanging and undulating their arms, heads, and legs from the balconies of the floors above. They made their way down the metal winding stairway in a single file line, but doing nothing the same as each other. Indulgently, the artists slithered (individually and in their collective pathway) to the bottom floor in no less than twelve minutes. They continued writhing on the floor of the lobby (not sexually or creepily, but like deliciously gooey amoebas), which must have looked spectacular from the balconies above. The music and movement momentarily subsided and Norsworthy stood up, taking a moment to thank the audience, venues, and sponsors for making On Site/In Sight happen and to promote the upcoming evening's performance.
Movement and music resumed, both picking up the pace and energy. The dancers revisited a partnered improvisational task we practiced in class, and I felt special to have an "in" as to what was going on. But my bubble was soon popped, as the artists began inviting spectators to play along, both as movers and conductors, in the context of this particular improv game. Two dancers invited two men (one kind of tubby and the other kind of balding) to participate, and they both enthusiastically obliged. Wearing different blue plaid shirts and obviously on their lunch break, the new movers unabashedly joined the seasoned dancers, along with other men, women, and children. Everyone had fun and nobody felt weird or embarrassed (at least not outwardly) about dancing with strangers or being put on the spot. Certainly there was the occasional passerby who hurriedly shuffled her heels through the crowded lobby, trying hard not to be seen or be seen watching. But overall, the tone of the room (building?) was delightful and welcoming, devoid of the cynicism and oh-those-weirdo-dancers-attitude that too often accompanies public or immersive performance art. I was in, as was everyone else.
The pop-up culminated with the dancers riding two glass elevators up and down, showcasing different actions or tableaus for the giggling and cheering audience. I think most of the cheers were directed at the occasional lay-person who actually needed to change floors, but ended up posing or playing along, enjoying their five seconds of fame. The artists trickled out of the elevators and made their way back to the stairway, retreating to the balcony above and eventually drifting out of sight as the music also dissolved. The spectators applauded and went about their day – back to work, or maybe newly inspired, outside to dance in the cool sun.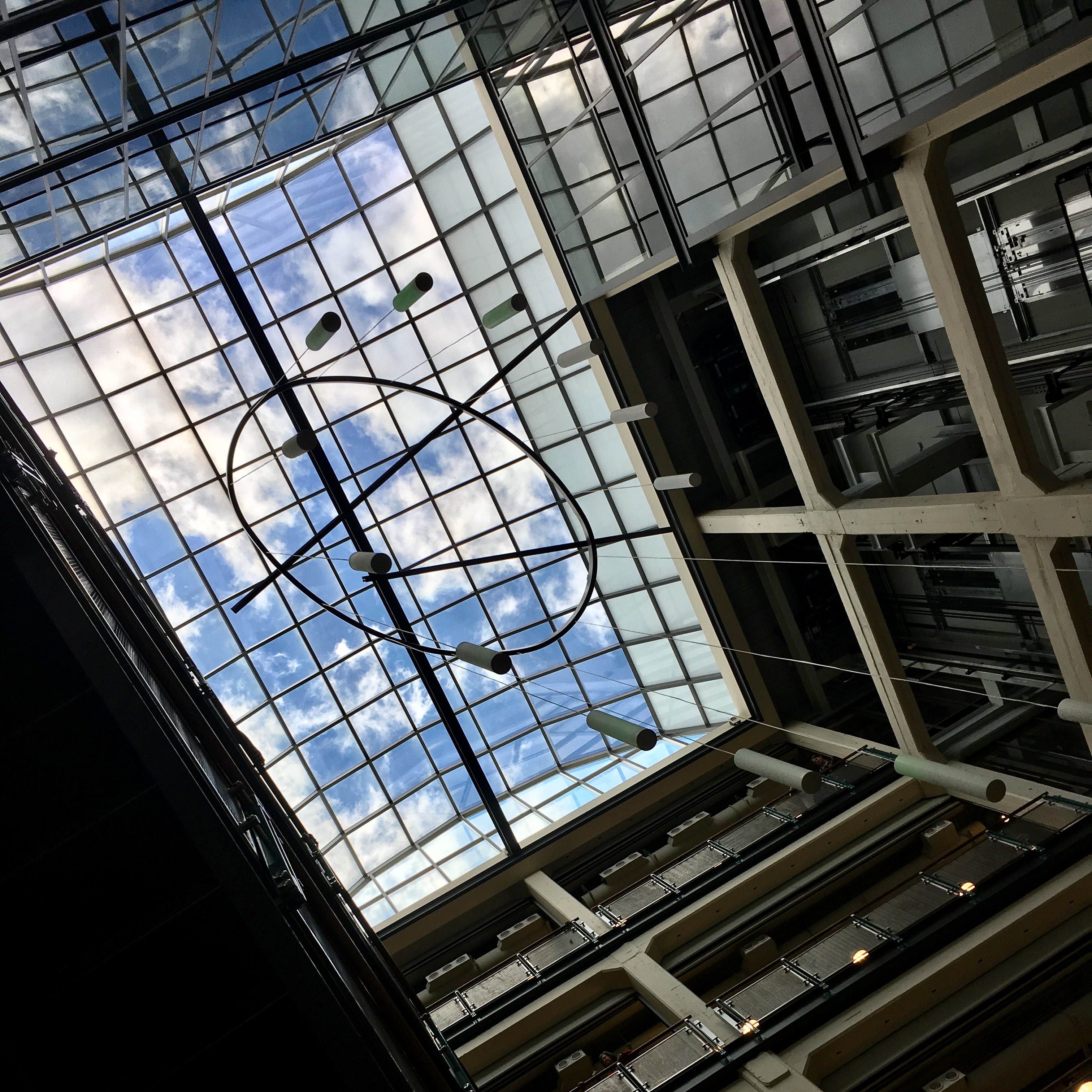 According to the On Site/In Sight press release, "At the heart of the festival is an interest in creating many entry points for local community participation. In this way we hope to create a festival that is accessible to everyone, free to all, and which builds a deeper understanding and appreciation for dance as an art form within the Winston-Salem community." That's right, all the events (classes, pop-ups, and performances) presented by the festival are FREE to the public, but not at the expense of the artists. Let me repeat that: NOT AT THE EXPENSE OF THE ARTISTS. Through the generous support of Millennium Fund, Wake Forest Innovation Quarter, and Wexford Science + Technology, as well as community partners, On Site/In Sight is proud to say that the majority of funds sponsoring the festival go to the people making it happen: the organizers, artists, tech person, videographer, and photographers. What?!? A FREE, locally organized, community centered festival that PAYS (not just reimburses) its artists, some coming from New York, Mexico, and Canada? On Site/In Sight is not only an inspiring experience for its content, quality, and accessibility, but is a model of professionalism and organization for any festival creator or coordinator, current or aspiring.
As the pop-up wrapped up, my two blue-plaided friends high-fived each other and the tubby one joked, "I guess we were just meant to dance!" The balding one lamented, "Well, back to work." As they plodded away, Tubby replied (I like to think with stars in his eyes), "What if work WAS performance?" I feel you, Tubs. I feel you.