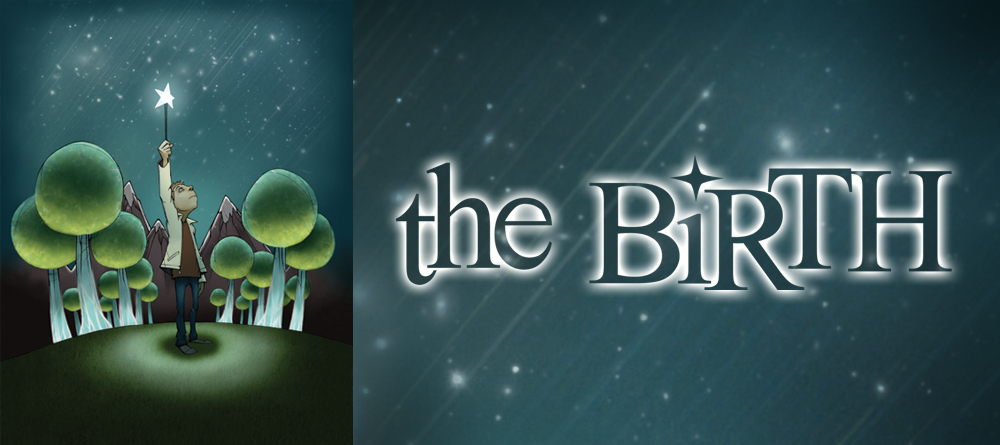 As a faculty member at Charlotte Ballet, I enjoy the perk of getting comp tickets to all of the academy and company shows throughout the season, including The Nutcracker. The Christmas classic got $1 million total makeover this year, promising grand new sets and dazzling costumes. Even so, I gave my tickets to a friend to take her daughter, just as I do every December. The Sugar Plum Fairy, Drosselmeyer, and the rest of the sparkly (albeit blatantly appropriated) candy cane land are just not part of my holiday tradition, and they'll enjoy it more. However, there is another, slightly less glamorous, wintertime show that I never miss – The Birth by Starving Artist Productions.
Last night I saw The Birth for I belIEVE the sixth year in row. Local actor/director Nathan Rouse conceived, developed, and adapted the writings of of Fredrick Buechner for the stage eleven years ago, and has been producing The Birth at the Duke Energy Theater for most of the last decade (after a few years of performing in homes and churches). The cast consists of two actors (Rouse and James K. Flynn), a handful of musicians, and one dancer, Kate Micham (Rouse's sister, who has also been part of The Birth since its inception). In full disclosure, Micham is one of my bestest friends and company dancers, and I may have had a hand in choreographing her Birth solos a few years ago, so I'll try to be as objective as I can (and not feel weird about calling her by her last name).
The Birth is a barebones production. There are no sets, just some chairs on the stage for extra seating or audience members who want to get closer to the action. The whole cast wears simple black shirts and jeans or a dress, and there are no microphones or electric instruments. The intimacy of the Duke Energy Theater perfectly houses the welcoming warmth one immediately feels upon walking into the space, accompanied by the sounds of Jonsi (thanks, Kate). The players and content of the show are what fill the space, and sometimes they they overflow. All three components of The Birth (acting, music, and dancing) are polished, genuine, and unassuming.
I won't spoil too much, but it's about the birth of a certain baby boy in a certain manger a long time ago, as told by three different auxiliary characters. Flynn sets the tone as the grandfatherly storyteller and Rouse exquisitely delivers all three monologues. Music and dance weave throughout the tale, one element never overshadowing the other two, but each one shining brightly in its own time. Flynn speaks as if he is old friends with everyone in the room, and Rouse is powerful as he is adaptable (kudos for keeping character while that pesky fire alarm went off, brah). Kate, I mean Micham, moves big in the small space, effortlessly balancing strength and sweetness, per usual. The music, played by Seth Dresser, Chris Pittman, Westley Renner, and Jessica Hahn, is lovely and lingering. All songs are original to The Birth, except one Christmas standard at the end, which still feels contemporary enough to not feel like Contemporary Christian music. My only wish would be to bring back some of the spirited volume of Births past, as the tunes got a little too soft at times. Namely, I missed the vocal prowess of Sarah DeShields, one of the original music writers and performers.
There's not much more I can tell you about The Birth that you don't 1) already know or 2) shouldn't know before going, but I can tell you this… it's beautiful. I don't use that word to describe much, as beauty is such a subjective beast. But if this girl – an atheist with Buddhist tendencies, whose ties to Christianity boil down to doodling and giggling with my sister in the pews, attending church retreats for the sole purpose of getting into trouble with my friends, and the reminiscently sweet taste of communion holding me over till lunch. If someone like me giddily looks forward to The Birth every year, I think you might like it a little. And I don't go just to support my friend (although that would be reason enough); I delight in the week it rolls around because for any Birth regulars, and certainly the cast, the holiday season has not started until Flynn and Rouse walk out on that blackest of black box stages and hug. I love this show because AND despite the fact that I get a lump in my throat and try to hide my wet eyes like the too-cool-for-school Grinch I am EVERY FUCKING TIME. You don't have to believe in, know anything about, or love Jesus to enjoy The Birth. You don't have to go to church, but you should be comfortable sitting in a theater full of nice, decent people who happen to be churchgoers. You don't have to have faith in ANYTHING, except maybe art and humanity, and I think we could all use a resurrection of that, especially now.
At the talkback after the show, I asked Nathan ('cause we're friends too) what changed over the last twelve months. In the program notes last year, it sounded like The Birth might not live on past its tenth anniversary, in a tired and swan-songy voice. This year he wrote:
I know we need this. If you're here, it would seem you did as well, whether you knew it or not. I won't spoil the mood by openly reflecting on the troubles of 2016, but if Art has any meaning, if Faith is to have any meaning, then they mean something in relation to the world outside our front door. And to the world on the other side of our own little worlds. It all means something. It all matters.
Yes, Nathan, Kate, and all the Starving Artists, past, present, and future. It matters that we make art when times are not just tough, but downright tragic. It matters that we create when the nights are so long and dark we can even imagine the light of tomorrow. It matters that, as Nathan pointed out, you performed on the evening of the Sandy Hook shooting four years ago, and honored the memorial in parking lot of Spirit Square last night. Thank you for the gift of The Birth this and every December, although I know you won't take full credit for it. Thanks for welcoming me, a cynical and jaded realist, to your beautiful production season after season. Cheers to next year's show, and getting through whatever lies before.. together.
---
Until then, you've got two more chances to catch The Birth this year:
Friday & Saturday, December 16 & 17 @ 7:00pm
Duke Energy Theater at Spirit Square
BUY TICKETS HERE (looks like they're going fast!)