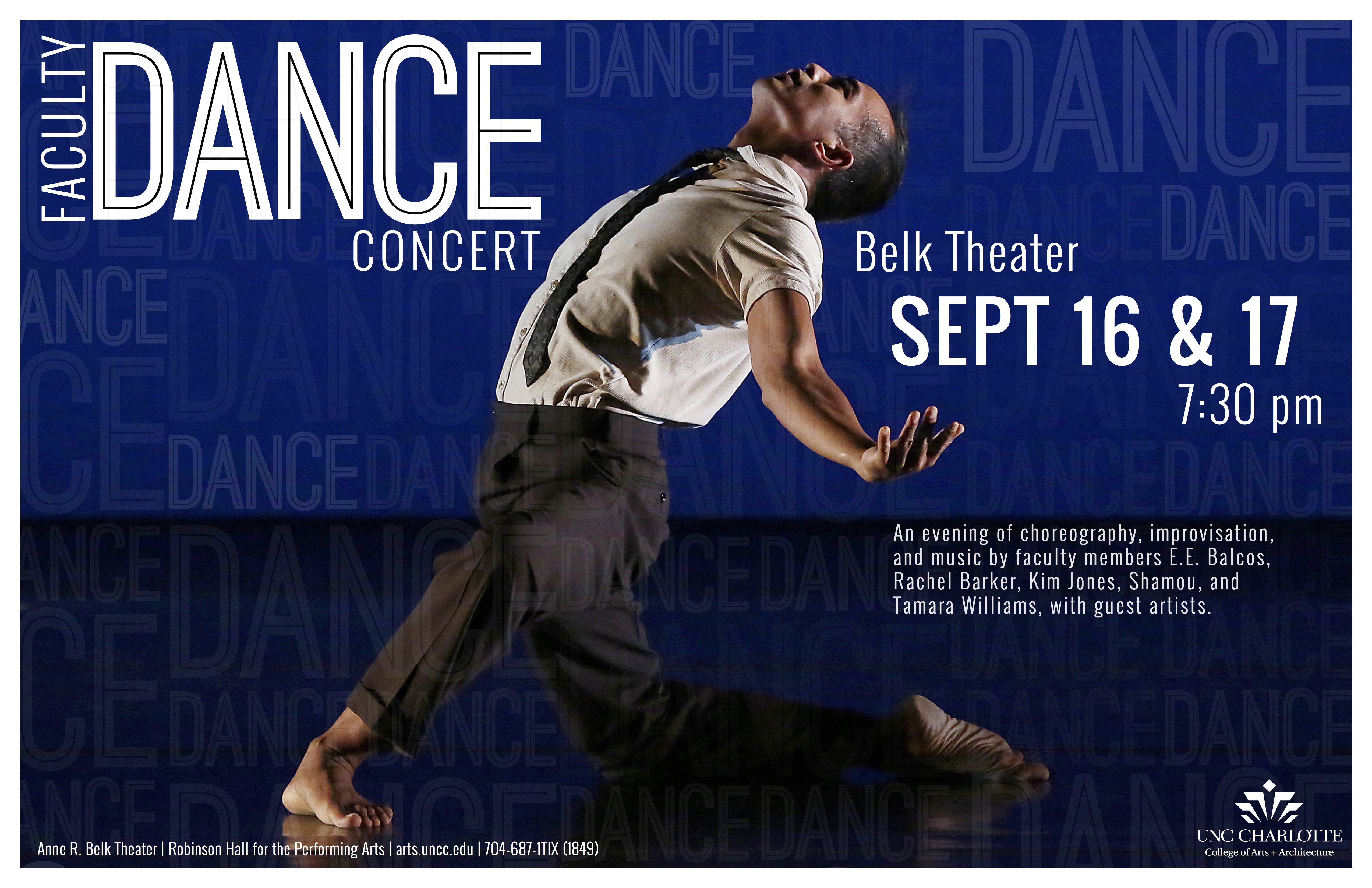 SEE THE SHOW: UNCC Faculty Dance Concert
Most concerts on a university campus showcase work produced or performed by undergraduate students. But next weekend the UNC Charlotte Department of Dance will present two nights of work choreographed by professors E.E. Balcos, Rachel Barker, Kim Jones, and Tamara Williams. The Faculty Dance Concert will also feature musical selections by  the department's new music director, Shamou. Performers on the concert include guest dancers from Charlotte and beyond, as well as other faculty members, ensuring two diverse and well-crafted evenings of dance.
E.E. Balcos, in collaboration with music director Shamou, presents Ancestral Tides: A Contact & Music Improvisation. This 15-minute work is performed in three sections of improvised contact dance and electronic and acoustic music. Additionally, microphones suspended above the stage will capture the dancers' vocalizations, blurring the lines between musician and mover. Also featuring Anthony Oliva, a former member of Pilobolus Dance Theater, this integrative performance is a tribute to the people of Balcos' and Shamou's respective ancient tribes.
Rachel Barker's Welcome follows a stream-of-consciousness format, a result of revealing physical, sensory, and cognitive attentions that occur at any given moment. For this piece, Barker's rehearsal process focused on awareness in improvisation and performance and embracing vulnerability. This trio, funded by the UNCC Faculty Research Grant, is performed by Juliana Tilbury-Carson (director and founder of PLEXUS dance) and two UNC Charlotte dance alumni: Caitlyn Swett (co-founder of Triptych Collective and independent Winston-Salem based artist) and Audrey Baran (director and founder of Baran Dance… hey that's me!).
Two solos will make their Charlotte premiere on the concert. Kaddish revisited by Kim Jones, régisseur for the Martha Graham Resource Center, is based on the Jewish prayer of mourning. Choreographed in reaction to 9/11 and recent events in Syria and inspired by the work of early modern dance choreographer Anna Sokolow, Jones will perform to live music on violin and piano by guest artists Ludovica Tassani and Andrea Giovanni Lucchi. New Assistant Professor of Dance, Tamara Williams will present "Of the Past", a section of a larger work, Morning Honeysuckle, Sunday's Greed (2012). Exploring the history and ongoing injustices of African Americans in the United States, this piece is an affirmation that the current status of black lives is an echo of what has occurred in the past.
A poo-poo platter of artistry, the UNCC Faculty Dance concert presents a variety of movement and musical styles. The works presented are as diverse as the choreographers themselves, but the show is bound by the thoughtful intention, innovative creative practices, and overt professionalism behind every piece. UNC Charlotte is often forgotten in the view of Charlotte's performance art community; it just seems so far away. But as an alumni, occasional adjunct lecturer, and performer in this contemporary dance concert, I can vouch that the 15-minute drive is well worth it. Some of the most avant-garde thinkers, movers, and makers are born in an academic setting, and UNC Charlotte is no exception. So take a leap, jump on North Tryon (eventually the Light Rail!) and check out what's happening in the arts at your hometown university.
UNCC Faculty Dance Concert
September 16-17 @ 7:30pm
Robinson Hall for the Performing Arts
9201 University City Blvd.
Charlotte, NC 28223
TICKETS: $18 general admission / $12 UNC Charlotte faculty, staff, and alumni / $10 seniors / $8 all students. Buy online or call 704-687-1849.